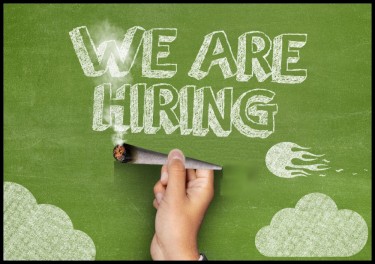 The coronavirus pandemic has affected so many industries leading to massive job layoffs. However, the cannabis industry is still hiring and the outlook remains good. If you've been laid off or are looking for a new job, now might be a good time to make the switch.
According to Vangst, a cannabis jobs platform, they are filling some 600 roles each week. Though that's a small decrease from pre-pandemic times, they have seen a 300% increase on job candidates on the website from March through April, says Karson Humiston, CEO and founder of Vangst.
"We've seen a huge uptick in candidates, and we're seeing a large number of candidates coming from hospitality and retail," she tells Bloomberg over the phone. She explains that around half of the temporary jobs that are getting filled on their platform, 50% are replacements for those who can't work while the other half is for typical seasonal work that is needed for packaging or harvesting businesses.
"When our clients do pick up hiring again, they're going to have access to a really strong talent pool." She did admit to a slowdown in general, because even though the cannabis industry is still doing fairly well considering everything, companies will still have to make adjustments such as working in shifts, employing less staff and more.
"In many cases, we've seen full-time hiring being put on hold, as uncertainty drives these businesses to keep expenses low," she explains to CannabisTech, adding that a number of cannabusinesses are operating with just 20% capacity because of social distancing. This would then have an impact on their hiring.
"Companies need salespeople to drive sales, so there's plenty of opportunity for talented sales professionals," she says, explaining the high demand for salespeople.
What Did The Cannabis Job Market Look Like Pre-COVID19?
In 2017 alone, cannabis jobs spiked a whopping 445% according to ZipRecruiter. Companies were hiring in virtually every level, in a variety of skillsets from tech, startup companies, laborers, and just about everything else in between. In the same year, there were some 110,000 jobs in the cannabis industry but after 2 years, that figure doubled. Right now, the cannabis industry is growing faster than others including textiles and mining when it comes to hiring.
A majority of Americans continue to believe that cannabis should be legal, and during the pandemic, cannabis was declared an essential service. Yet the Federal government still ignores the importance of the industry particularly in the economy, and it just might be the saving grace we all need for this pandemic. Cannabis doesn't just generate new jobs both directly and in ancillary sectors, but it also helps promote new sectors.
And speaking of new sectors, there is also a rise in cannabis jobs related to packaging and design. Cannabis products these days are available in a dizzying array of packages: from sprays, pouches, luxury subscription boxes, child-proof designs, glass jars, and so much more. The industry is in need of designers who understand both the product and how these designs work, in order to give the consumer the best experience possible. On top of that, there's the need for logo design, web development, and other related design fields.
It isn't surprising then that since 2015, there's been a 59% increase among design and packaging jobs with the words cannabis or marijuana in it, according to 99 Designs. Just a few years ago, these jobs weren't around but these days they're highly specialized positions.
Salaries
CannabizTeam, a cannabis-focused recruitment firm, recently released the 2020 US Cannabis Industry Salary Guide: Q3 Update. They provide key updates from the initial report published in January, a report which was downloaded more than 10,000 times.
"Who could have imagined back in January how much the world would change over the next six months? With so much pain and devastation caused by the global pandemic, the resilience of the US cannabis industry has been one of the few bright spots so far in 2020. Fueled by the 'essential business' designation from state and local governments, cannabis businesses have filled tens of thousands of new permanent and temp positions so far this year in a labor market where more than 30 million US workers have filed for unemployment benefits. We could not be more encouraged by the growth the industry is experiencing in these challenging times," says Liesl Bernard, founder and CEO of CannabizTeam.
Some key highlights from the report include details on the 16% average increase for compensation in executives, 12% spike in salaries for dispensary managers (now $85k), a 16% jump in the median salaries for Director of Cultivation positions (they can now make as much as $250k), and much more.
College Students Seek Cannabis Jobs
In August 2020, a survey conducted by Axios and College Reaction revealed that 22% of college students don't plan on enrolling during the fall semester, citing dissatisfaction with distance learning. Meanwhile, other students are worried about the health risks involved with going back to school.
Because of this gap semester induced by the pandemic, around 4 million college students are left with no choice but to look for a job. And many of them are seeing the light in the cannabis industry.
"The cost of traditional university tuition – it's being priced the same even though it's mainly online now – so it just didn't seem worth it," explains Chet Lim to Leafly, a high school graduate who took a gap year to study marijuana online through Oaksterdam University.
No matter which way you look at it, the cannabis industry is providing a glimmer of light in what would be otherwise dark times. It's giving the economy the boost it needs, as well as putting food on the table for hundreds of thousands out there that need it.
Check out the Cannabis.net job board for open marijuana industry jobs, click here to see openings!
CANNABIS JOBS, WHAT IS THE REAL DEAL, READ MORE…
CANNABIS JOBS PAY MORE? SAY WHAT? READ THIS!
OR..
HIGHEST PAYING CANNABIS JOBS, WHAT ARE THE TOP 5?