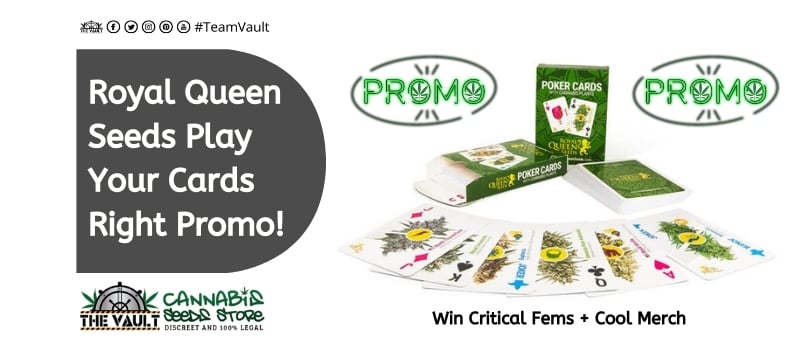 New week – new promo here at The Vault!
After the massive interest we got in last weeks promo', we're hoping for more of the same with our new Royal Queen Seeds Promo.
The winnings are going to be fit for a King, or Queen we should say. So don't be a joker and let's deal you in on our latest promo!
There are 5 packs of x3 Critical Fem from RQS up for grabs along with a lighter*, grinder, papers, stickers, T Shirt AND a deck of Royal Queen Seeds Playing Cards.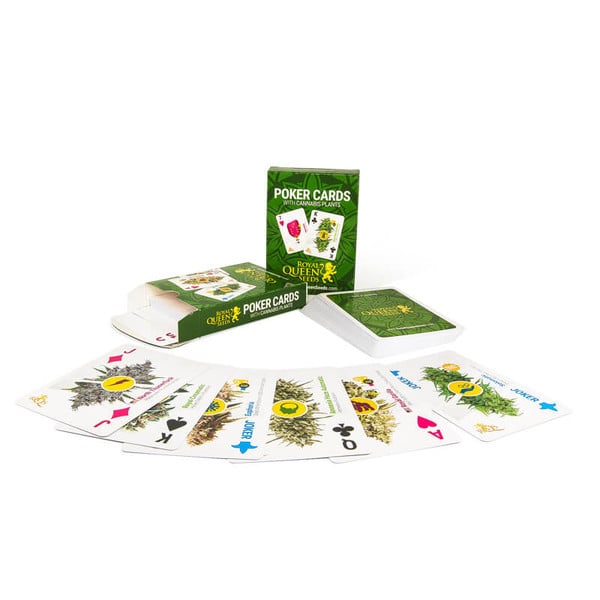 We've performed a magic shuffle in the office and came out with the 7 of hearts. We want you to guess if the next card in the pack is going to be higher or lower than the 7. To enter, just type HIGHER or LOWER in the comments.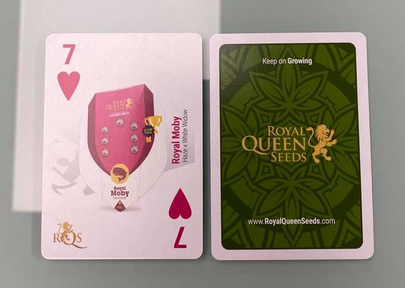 About Royal Queen Seeds!
Royal Queen Seeds is a brand that originated in the Netherlands but is quickly growing to become one of the best loved brands in Europe. They supply a large range of seeds in all forms in order to make the customer experience a simple and pleasant one. The brand is operated by skilled and experienced breeders and growers who have put a lot of time and effort into perfecting their product.
They understand how difficult it can be for customers when they are presented with an unnaturally large selection of seeds, how does anyone know what to go for? So they have narrowed their selection down to only the finest and highest quality seeds without sacrificing any of the variety or jacking up their prices. They still firmly believe that they supply something for everyone whether they are looking for auto flowering, feminised, or medicinal seeds.
About The Seeds!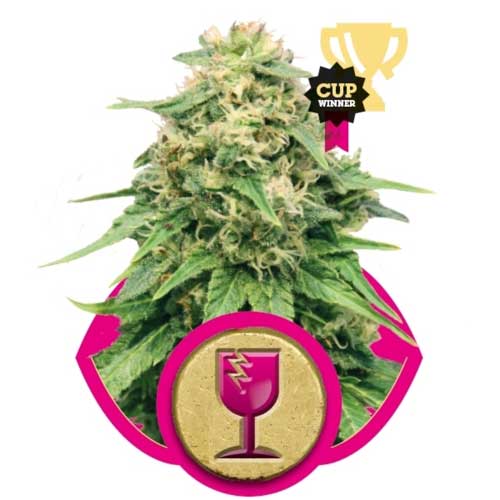 Royal Queen Seeds Critical Feminised seeds is an award-winning variety which combines all the attributes needed for great commercial growing such as a high yield, easy growth, and a swift flowering period.
It is an Afghani and Skunk hybrid resulting in an Indica dominant seed, which accounts for its fast 7-week flowering times, and a high THC content.
Its small height means it can be grown indoors although it would thrive more in a sunny outdoor environment such as that of Spain and Italy.
When grown indoors it will reach a height of under 1 m and produce a yield of 550-600 gr m2, whereas outdoors this yield will increase to 600-650 g per plant dried. This is a perfect plant for the grower who does not possess a lot of space but still wants a high yield.
Terms
One entry per person. Closes Wednesday 10th February! Winners will be informed by private message and/or email. Any unclaimed prizes go back into the prize vault after 28 days.*Lighters can only be sent to UK customers due to issues at border control.
Legal Disclaimer: The competition winners will have their prizes sent to them via recorded delivery. If you win the competition but don't receive your prize, we cannot resend competition prizes, so you'll have to raise this with your local delivery service (In the UK, for example, this would be Royal Mail).
Remember: It is illegal to germinate cannabis seeds in many countries including the UK. It is our duty to inform you of this fact and to urge you to obey all of your local laws to the letter. The Vault only ever sells or sends out seeds for souvenir, collection or novelty purposes.
Make sure you never miss another Vault promo and sign up for our newsletter at http://goo.gl/Bt2Ba2