Millions of people who suffer from various body aches look for real-time pain relief to ease their woes. The pain levels may vary from mild discomfort to debilitating, but it's safe to say that if you can find a quick solution, you'd most likely take it. However, one of the most pressing concerns about these treatments is the side effects, whether short-term or long-term.
While analgesic and anti-inflammatory pain medications have come a long way thanks to scientific development and medically-reviewed discoveries, no panacea would cure all types of pain.
Some have found relief from using natural remedies, while others have needed stronger formulation and even prescription drugs to help. Nevertheless, this article could help you find the right real-time pain relief product for you.
How Common Is Pain in Joints and Other Areas?
Typically associated with older individuals, joint and muscle pains are more common in the general population of adults in the United States than one might assume. The joints of the human body form a strong but strenuous connection between bones. They bend and stretch to help you move. Once strained or damaged, physical movement becomes painful and sometimes impossible.
Many conditions can lead to painful joints, which in turn leads to painful body areas. There are chronic ailments such as rheumatoid arthritis, gout, and osteoarthritis.
Other conditions are sometimes brought about by accident or too much sudden or wrong movements like sprains, strains, torn ligaments, and injured or broken bones.
All of the above are extremely common and, for the most part, are manageable. However, when it becomes chronic pain, it can spread to other parts instead of just one area of inflamed joints.
As the year's progress, it is normal that the body no longer moves and stretches its way. Pain in joints, especially in the neck, shoulder, back, and knee areas, could be common. When this happens, it is best to prepare some quick remedies.
Real-Time Pain Relief Products on Amazon
With consumers being more conscious of an ever-growing black market of duped or faked items, maybe you've decided to try popularly reviewed soothing products on trusted e-commerce websites like Amazon.
The options are virtually limitless, but we have compiled some of the all-time best-selling pain-relief goods you can check out.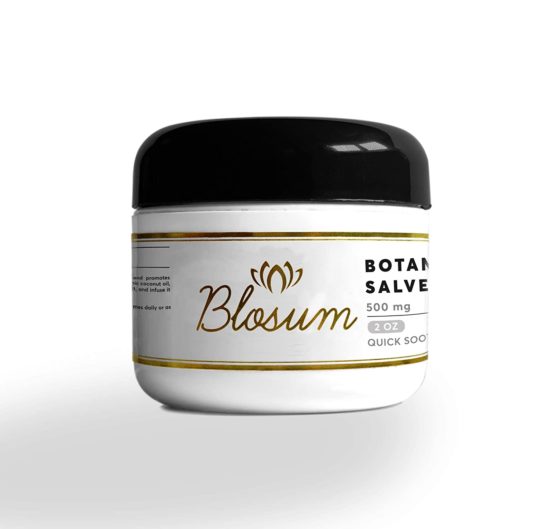 Price: Starts at $49.99
Ingredients: 500mg Cannabidiol, Coconut Oil, Vitamin E + Essential Oils, Arnica Montana Extract, Organic Beeswax, Olive Oil
Product Features: BlosumCBD's Herbal Botanical Salve is a USDA Certified Organic topical made with the finest ayurvedic ingredients. Its main active component is 500mg of pure CBD that helps soothe aching joints and muscles after a long, tiring day.

It comes in a light citrusy blood orange scent that is not too overpowering but pleasant and cooling to the senses.

Directions for Use: Take out a coin-sized amount and rub between your palms to warm up the salve. Apply on affected areas and massage lightly. This CBD Herbal Botanical Salve is formulated to provide real-time pain relief and moisturize the skin.
BUY NOW ON AMAZON
Best Seller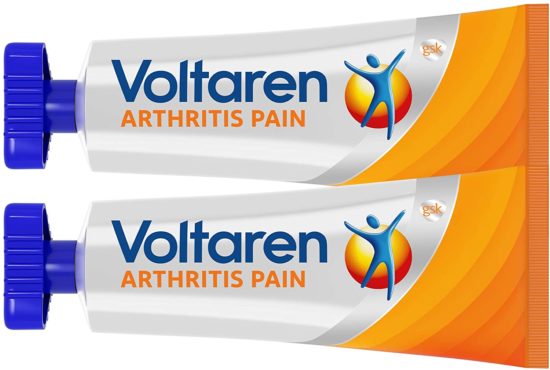 Price: $29.99
Active Ingredients: Diclofenac sodium
Product Features: Two 3.5oz/100g tubes of Voltaren Arthritis Pain Gel for topical arthritis pain relief. An alternative to oral NSAIDs, Voltaren provides pain relief to those suffering from joint and muscle pains.

This bestselling gel is clinically proven to help treat a myriad of conditions that produce swelling and inflammation. Its active ingredient, diclofenac sodium, is a particularly effective analgesic against arthritis, acute gout, sprains, and other similar conditions.

Directions for Use: Squeeze out a minimal amount of the gel, rub between palms, and spread evenly on affected areas. Massage gently to assist product absorption on the skin. Use up to 4 times a day and continue for the next few days until pain significantly lessens or disappears.
BUY NOW ON AMAZON
Amazon's Choice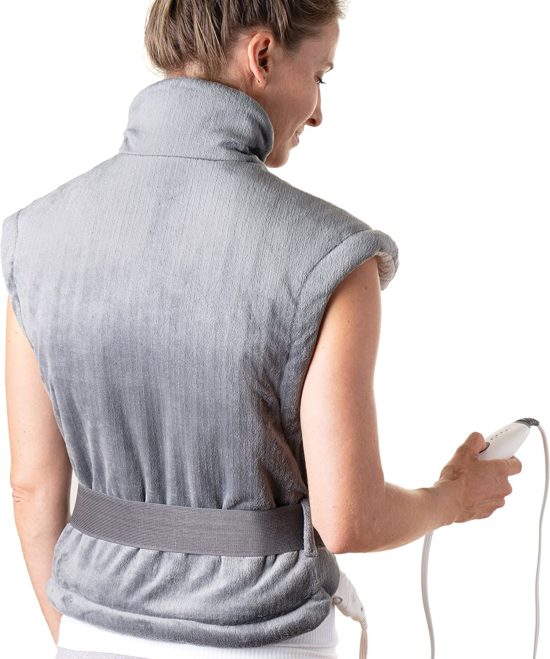 Price: $39.99
Package Information: Electric heating pad with corded LED controller, elastic belt, and storage bag for easier storage, comes with industry-leading 5 Year Warranty
Product Features: Heating pads that require hefty preparations are a thing of the past. No need to warm up your old ones in the microwave every after twenty minutes of use. This heating pad keeps a stable temperature for hours.

Thanks to its ergonomic design, it can cover the neck, back, and shoulders for simultaneous heat therapy. It comes in an adjustable fit for most sizes, with built-in loops and an optional elastic belt to keep everything in place as you work or relax.

Directions for Use: Simply wear the heating pad as you would a normal vest. There are four therapeutic settings on this heating pad: warm, low, medium, and high. You can adjust the temperature using a built-in LED controller. It also features an automatic 2-hour shut-off to let the product rest and prevent excessive heating.
BUY NOW ON AMAZON
Amazon's Choice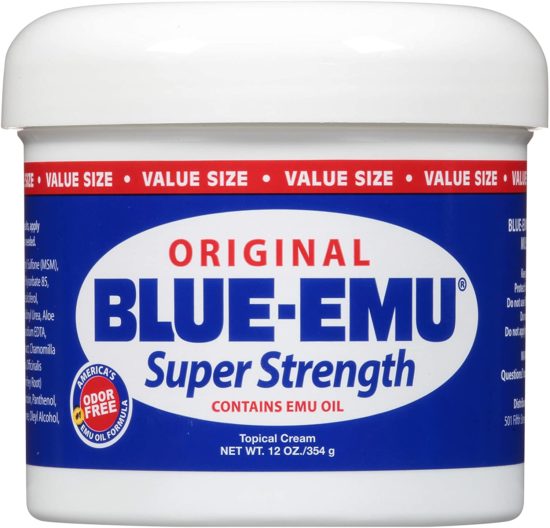 Price: $26.88
Active Ingredients: Emu Oil
Product Features: 14.4oz/408g jar of Blue Emu Original Analgesic Cream. Emu oil is made from the fat deposits of a flightless bird that you call Emu (scientifically named Dromaius novaehollandiae) that is endemic to Australia. After a series of filters and processing, the oil is commonly used as a topical. It has moisturizing, and analgesic properties that Native Australians believed could benefit the skin and soothe aching body parts.

Blue Emu Original Analgesic Cream is an Amazon's Choice topical that features a combination of real emu oil and botanicals to deliver a powerful real-time pain relief cream to users. Unlike other topical NSAIDs, this cream leaves the skin feeling smooth and supple thanks to emu's natural hydrating properties.

Directions for Use: Apply liberally over affected areas. Partner with moderate massages to help with blood flow and product absorption. Use 2-3 times daily for as long as needed but do not use on open wounds.
BUY NOW ON AMAZON
Amazon's Choice
Price: $4.79
Active Ingredients: Camphor, Menthol
Product Features: 0.63oz/18g jar of Tiger Balm Pain Relieving Ointment: Red Extra Strength. For nearly a century, Tiger Balm has been a staple in many home cabinets. It is a relieving ointment of use to soothe all types of joint and muscle discomfort for people of all ages. This extra strength ointment is made with 11% camphor and 10% menthol that is mixed with other botanicals for maximum health benefits.
Directions for Use: Rub onto the affected area and massage lightly. The product is extra strength invariant, so use sparingly. It is for topical purposes only. Keep away from the mouth and eyes. Use up to 4 times a day for as long as needed.
BUY NOW ON AMAZON
Other Pain Relief Products to Consider
Apart from these popular real-time pain relief products on Amazon, there are also plenty of independent brands out there that make popular, topical analgesics. An active ingredient that is making a name for itself in the health community for its anti-inflammatory properties is cannabidiol or CBD. It is an active cannabinoid found in hemp plants.
CBD oil is a hemp-derived compound with many potential health benefits used to treat varying symptoms and conditions. If you're worried about weed-high-like side effects, you'll be relieved to hear that CBD is completely non-psychoactive. It does not have adverse side effects and is generally considered a safe substance by the World Health Organization.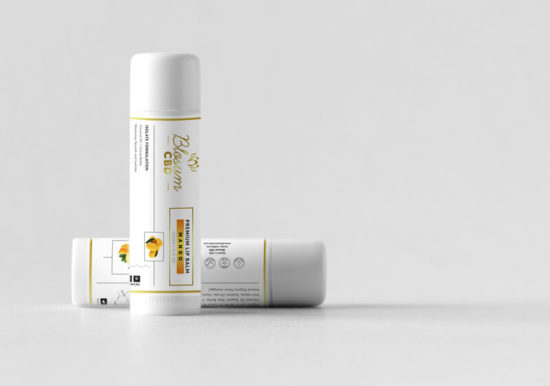 Price: $11.99
Ingredients: 100mg Cannabidiol, Shea Butter + Essential Oils, Sweet Almond Oil, Apricot Oil, Beeswax, Coconut Oil
Product Features: Unlike most CBD-infused lip balms that contain a measly amount of 10mg or 25mg cannabidiol, BlosumCBD's Lip Balm boasts 100g of high-quality CBD.

With nutrient-rich ingredients such as shea butter and organic almond oil, this topical is not only nourishing for the lips but prevents dry and chapped skin as well. If your lips are prone to cracking and cuts, this could be your next holy grail product. It also comes in delicious flavors of mango and mint.

Directions for Use: Use as you would a regular lip balm or stick. Swipe on a few layers on upper and lower lips and spread evenly. Re-apply as needed throughout the day. Using hydrating ingredients on the lips over a while could improve color and blood flow, resulting in smooth and soft lips.
BUY NOW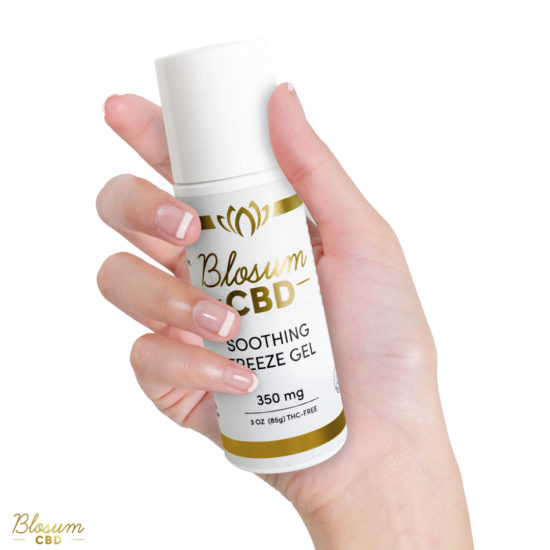 Price: $49.99
Ingredients: 350mg Cannabidiol, Arnica Montana (Arnica) Flower Extract, Calendula of Cialis (Calendula) Extract, Camphor, Menthol
Product Features: Blosum's THC-free freeze gel is a convenient topical with a roll-on applicator for a mess-free pain reliever anytime, anywhere. It is of infusion with 350mg of pure and potent CBD that can help alleviate pain in any part of your body.

Athletes and those with active lifestyles prefer this product as it is easy to carry and use. The camphor and menthol leave a cold but soothing feeling that refreshes the skin and relaxes the muscles.

Directions for Use: The roll-on applicator makes this CBD Soothing Freeze Gel easy to use. Simply uncap the product and roll it on all over affected areas. Lightly massage to assist blood flow and product absorption. Use as often as desired or when needed.
BUY NOW
Treatment for Pain Relief
There are various ways to achieve pain relief but choosing the right product also depends on several factors. These include the severity of the condition, if it is chronic or acute, the bioavailability of the product or its ability to be of absorption into the bloodstream, your own body's response to pain relief medicines, and, of course, the advice of a medical professional.
After considering these things, you would have most likely done your research on what kinds of products are out there. The most popular and accessible ones would be over-the-counter or prescription nonsteroidal anti-inflammatory drugs (NSAIDs) such as aspirin, ibuprofen, or acetaminophen (Tylenol). These usually come in pill or tablet form and orally ingested.
NSAIDs can aid in pain control, but they can also have harsh side effects in the long run. Gastrointestinal bleeding, liver damage, ulcers, dizziness, and allergic reactions are only some of the possible adverse effects. You are to take these medications in moderation. If unsure, especially if pregnant or with a complicated medical history, talk to your doctor first.
However, these are not the only real-time pain relief products out there. Topical analgesics have been around for as long as humans have figured out how to concoct medicine from natural herbs and plants. Whatever the cause of joint, muscle, or other pains in the body, physical therapy and alternative treatments are also available to you as options.
Final Thoughts
Whether you are now just starting to feel the pain caused by joints, muscles, or tendons that are strained or injured, or have long been plagued by the normal wear-and-tear of the human body as the years catch up to it, there are multiple ways to prevent, avoid, or help ease these pains.
There are oral prescriptions like NSAIDs, topical analgesics such as the ones listed above, therapeutic methods such as heat and pressure, and other optional treatments.
Seek medical advice, diagnosis, or treatment if pain persists after trying out a few of these products. Be sure to check ingredients first before buying anything, and read product reviews to see any possible adverse reactions to these real-time pain relief products.
As an Amazon Associate INQUIRER.net will earn from qualifying purchases.
<!– Please implement on Entertainment only, remove the twitter handle after the byline in #byline_share
Follow @FMangosingINQ on Twitter
–>
Don't miss out on the latest news and information.