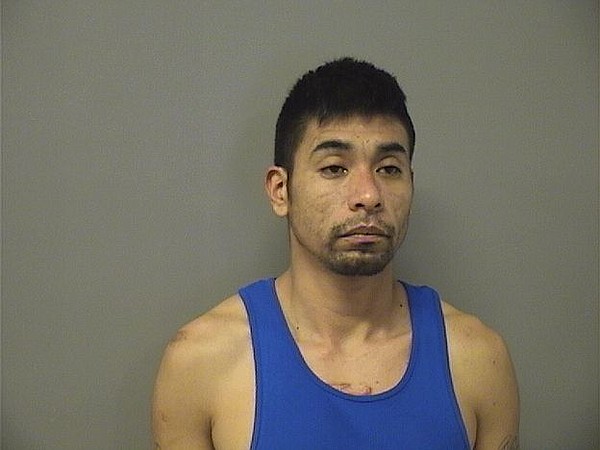 A woman who was injured while being carjacked at gunpoint in Garland County at around 5 p.m. Friday by a Leola man, who then forced her to drive to Malvern, convinced her assailant to go to a Walmart store where he later released her, according to a Garland County sheriff's affidavit released Monday.
The Malvern Walmart, located at 1910 Martin Luther King Blvd., was evacuated and locked down for about 30 minutes by law enforcement agencies because the suspect, identified as Miguel A. Sanchez, 33, might still be inside, but he had already left and was taken into custody by Arkansas State Police shortly before 7:30 p.m. on East Page Avenue about 3 miles away.
Sanchez, who is being held on $150,000 bond and was set to appear Monday in Garland County District Court, is charged with felony counts of aggravated robbery and kidnapping, each punishable by up to life in prison, and aggravated assault, punishable by up to six years.
According to the probable cause affidavit, the incident began at around 4:45 p.m. Friday when an employee at Suite 443 marijuana dispensary, 4897 Malvern Ave., activated the panic alarm.
Sheriff's deputies and state police were dispatched, and while still en route, a dispensary employee called the dispatch center to report there was someone with a gun outside who had attempted to rob another person at gunpoint in the parking lot.
When the victim did not cooperate, the man, later identified as Sanchez, fled the scene on foot to Affordable Buildings of Hot Springs, located across the road at 4884 Malvern.
It was noted he was reportedly wearing a camouflage shirt and pants and armed with a gold handgun.
Sanchez reportedly approached a black Chevrolet Tahoe in the parking lot that was occupied by a woman, 32. He opened the driver's side door, where the woman was seated, and brandished the handgun and told her to get out, and that he was going to take her vehicle.
She attempted to retrieve her gun, but Sanchez knocked it out of her hand. She then attempted to take Sanchez's gun from him, but he head-butted her, causing bruising and a small laceration to her lip, the affidavit said.
Sanchez then jumped into the passenger seat and ordered the woman to drive. She drove out of the lot and headed east on Malvern Road toward Malvern. Sanchez reportedly told her he needed money and wanted her to take him to an ATM at a bank, get him some cash and then drop him off at the Walmart in Malvern.
The woman told Sanchez there was an ATM at Walmart, so they went there. Once at the store, Sanchez escorted the woman inside to an ATM where she withdrew $100 and gave it to him. At that point, Sanchez took the money and walked away.
Following the evacuation of the Walmart and a search there, state police reportedly located Sanchez near a bank on East Page Avenue at 7:22 p.m. and took him into custody and transported him to the Malvern Police Department.
See Tuesday's edition of The Sentinel-Record for more details.